Rock Energy Cooperative held its 87th Annual Meeting on Monday, April 24, 2023, at the Eclipse Center in Beloit, WI. 
During the meeting, 2023 Rock Energy Director Elections were announced for districts 6, 7, and 8. Presiding over the elections was attorney Niles Berman. Directors elected are as follows:
Clark Schoonover (Board Chairman) – re-elected in District 6 
Derik Roth (new board member) – elected in District 7
Ronald Richards (Board Treasurer) – re-elected in District 8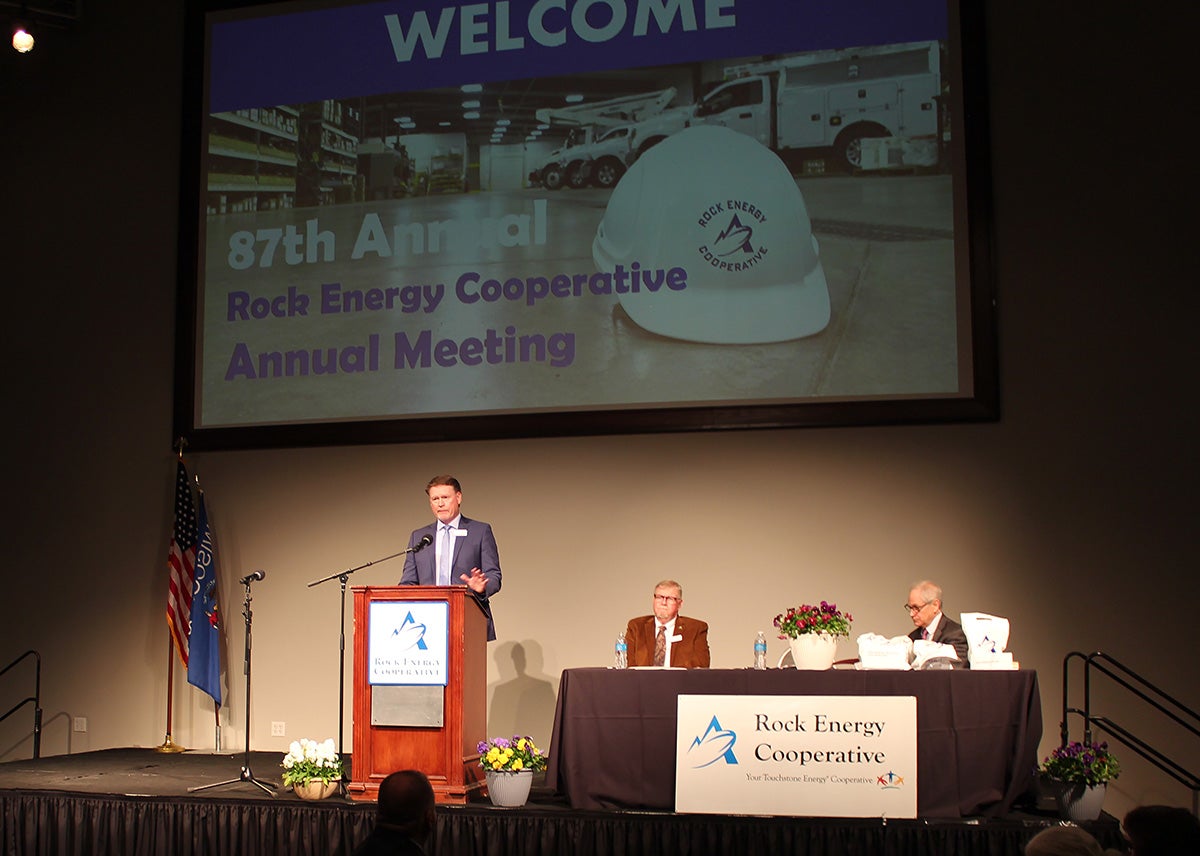 Pictured above, Rock Energy CEO Shane Larson addresses the audience at the co-op's 87th Annual Meeting. Seated is Clark Schoonover, Board Chairman (left), and  attorney Niles Berman.
Calling the meeting to order and providing opening remarks at this year's meeting was Board Chairman Clark Schoonover, followed by a short address from Rock Energy CEO Shane Larson. Schoonover also provided the Official Notice of the Annual Meeting, Treasurer's Report, and Chairman's Report.
During their speeches addressing the audience at this year's annual meeting both Larson and Schoonover discussed the various financial challenges both individuals and organizations, including the co-op, have faced over the last year. 
"We've definitely had some headwinds, such as inflation," said Larson. " And cost increases due to supply chain issues have been substantial."
Larson also noted that there has also been a significant rise in natural gas prices for the majority of 2022, and that combined with rising inflation and other costs, the board of directors determined that a slight rate adjustment was necessary in 2023. 
"As a board, we take modifying rates very seriously," said Schoonover. "We know it impacts every member which includes our neighbors, family, and each director siting around the board table."
Despite these numerous challenges, Larson said, the co-op continues to stand it's ground financially.
"Financially, this co-op is very strong." said Larson. "We have strong equity. This past year in capital credits we retired $2.1 million. Since 1936, we have retired $26 million back to our members."
Also during this year's meeting, the 2023 Rock Energy scholarship winners were recognized. Education committee and board member/secretary Marian Trescher announced each scholarship winner, while scholarship certificates were presented to the winners by education committee and board members Barb Miller and Bill Fischer.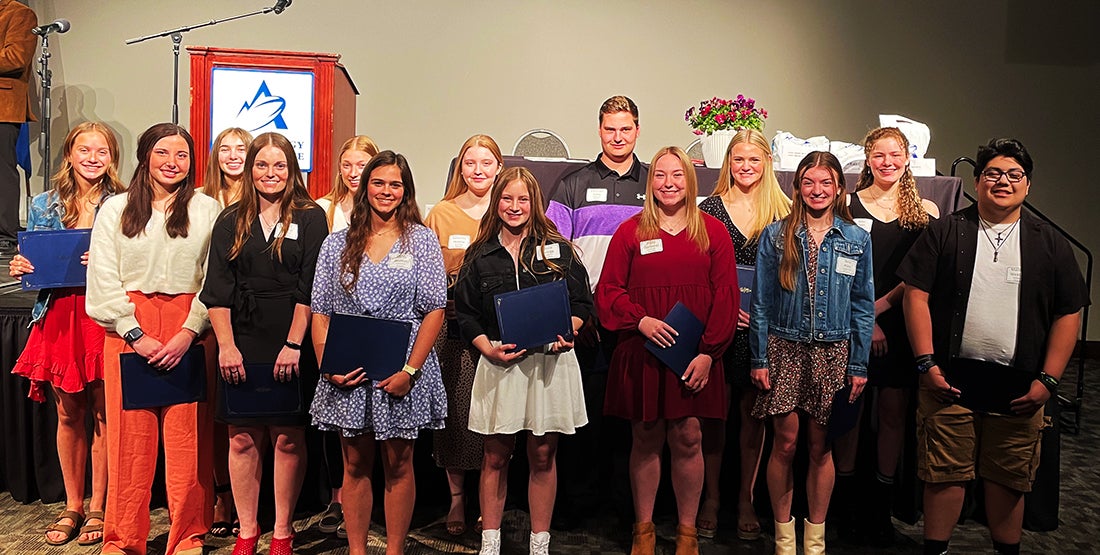 Pictured above are the 2023 Rock Energy Scholarship winners. Back Row (L to R): Katelyn Duber, Ella Eash, Maysa Johns, Samantha Hopkins, Alex Evans, Katie Jones, and Jadyn Stien. Front Row (L to R): Claire Esselman, Casey Knaack, Hailey Beeman, Jenna Kellogg, Trinity Czerwinski, Kera Riley, and Matt Wicklund   (Not pictured: Isobel Hamilton)
At the close of the meeting, retiring Rock Energy board member and Vice Chairman Bill Dietsch was recognized for 24 years of service on the board. Bill and his wife Janie were presented with a commemorative/customized picture and flowers as part of the retirement recognition presentation. Many of Bill's family members were in attendance at the meeting. A director since 1999, Bill had also served as the Board Chairman in the past.
"We've had a lot of great times with Bill and Janie," said Larson. "I personally owe a great deal to Bill, because he has been a great friend and leader. You're going to be missed in the boardroom, but congratulations on your retirement, we truly appreciate everything you've done for us."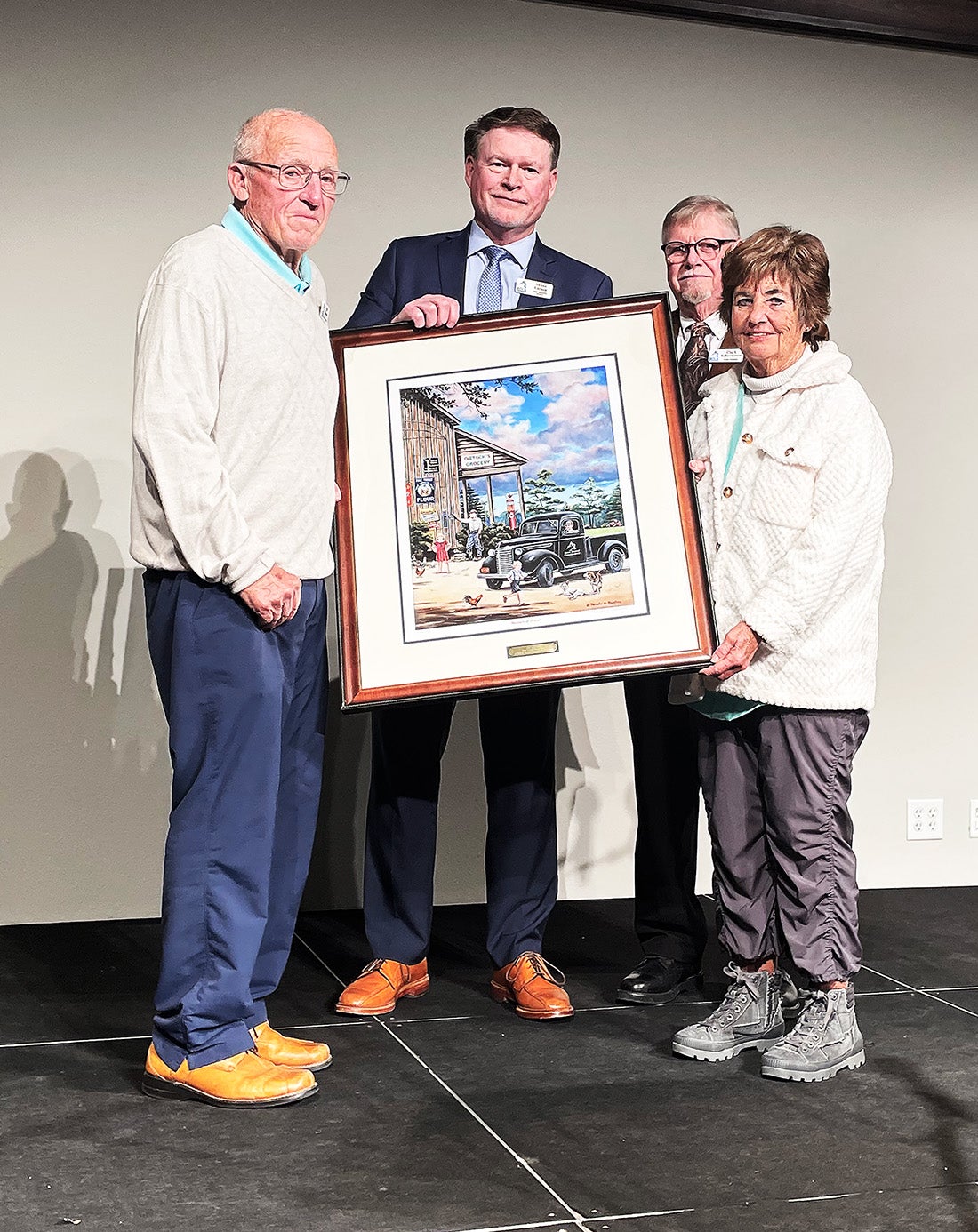 Above: Bill Dietsch is recognized for 24 honorable years of service on the Rock Energy Board of Directors. Bill recently retired from the board. Pictured (L to R): Bill Dietsch, Shane Larson, Clark Schoonover, and Janie Dietsch (Bill's wife)